Company Profile
Established
June, 1993
Representative
President Kunihiko Kawai
Capital
90 million yen
Address
45-1 Nishimiyamae, Nishinakayama, Toyota, Aichi, 470-0496 Japan
TEL
(+81)-565-76-5111
FAX
(+81)-565-76-5115
Business
Manufacture and sales of automotive plastic parts
Clients companies

Kojima Industries Co., Ltd.

Toyota Auto Body Co., Ltd.

Hino Motors, Ltd.

Toyota Boshoku Co., Ltd.
Company Sales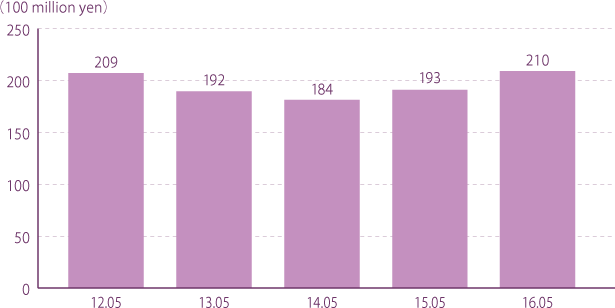 Owned Facilities
Injection Molding Machines
〜850t
5
〜450t
19
〜180t
12
Special small molds
9
Total
45
Experiment Equipment
・CFD
・Traverse device
・Flow visualization room
・Air conditioning sensory room
・Sound-proof room
・Anechoic room
Test Equipment
・FT-IR
・Japan Society for the Promotion of Science (JSPS) wear tester
・X-ray fluoroscope
・Thermo-hygrostat chamber
・Glass haze tester
・Thermostatic chamber
・Grip durability tester
・Color difference meter and gloss meter
・Taber wear tester
・Heat resistant special thermostatic chamber
・Three programmable thermostatic chambers
・Compound testing device
・Tension and compression testers
・Cold, hot, and condensation tester
Company History
1942
Shinko Plastic Industries, Ltd. established (in Sumida Ward, Tokyo)
1948
Name changed to Sanko Factory. Ltd. (Toyota City)
1957
Sanko Factory. Ltd. converted to stock company
1968
Business tie-up with Kojima Press Industry, Ltd.
1970
Name changed to Wako Plastics, Ltd.
1993
Howa Plastics, Ltd. established carrying on the business of the previous company (Capital of 30 million yen)
1996
Invention Prize Invention Merit Award (for simultaneous registers in one mold)
– The Japan Society for the Advancement of Inventions (JSAI), Nikkan Kogyo Shimbun (The Business & Technology Daily News) Company –
2001
Capital raised to 90 million yen
2003
ISO14001 certification acquired (JQA-EM3149)
2004
Plant with Superior Energy Management Commendation Award from Chubu Region Economy, Trade and Industry Bureau Chief – Energy Conservation Center, Japan –
2005
ISO9001 certification acquired (JQA-QMA12102)
2007
Aichi Prefecture Labor Bureau Chief Award Honorable Mention (Occupational Health and Safety) – Ministry of Economy, Trade and Industry Chubu Region Economy, Trade, and Industry Bureau – Received Chubu Region Economy, Trade, and Industry Bureau Chief Award for Superior Greening Factory – Ministry of Economy, Trade and Industry Chubu Region Economy, Trade, and Industry Bureau –
2014
Zero Accident Record Type 4 (1.32 million hours) Certified – Ministry of Health, Labor and Welfare, Labor Standards Bureau
Access Map
View this map in a larger size
HOWA Plastics.co.,ltd.
45-1, Nishinomiyamae, Nishinakayama, Toyota, Aichi, 470-0496, Japan
TEL:(+81)-565-76-5111
FAX:(+81)-565-76-5115