Howa Plastics Craftsmanship

The automobile industry develops from one day to the next. We think that pursuing high quality and low cost for further development is our mission as a manufacturer connected to the automobile industry.
Howa Plastics handles from research and development to design and production in order to tackle optimum production of plastic parts, particularly automotive air conditioning parts and to create products with the quality and price to satisfy customers. For this purpose, each department considers "what would be the optimum", makes improvements to every process, from raw material procurement to development and manufacture in order to attain quality that always stays ahead of needs.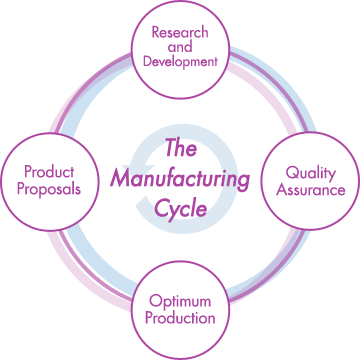 Within our wide-ranging product line, one part where our strengths really stand out is "air conditioner vents". In particular, for the "air flow" that is a key function for automotive air conditioning, we tackle product development to attain yet more comfortable air conditioning. We utilize our unique fluid measurement system and simulation technology that we created on the foundation of our know-how and many years of technology accumulation.
R&D
equipment
FFT analyzer, precision noise level meter, anechoic room, simple sound-proof room, hot wire anemometer, flow meter, various wind tunnels, and other equipment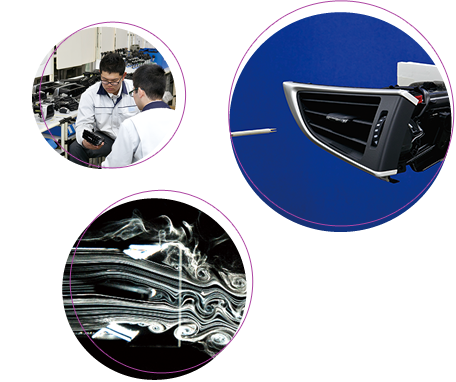 At Howa Plastics, we tackle production believing in "better products, at lower price, quicker". We always move forward manufacturing plans that feature production efficiency improvement and flexibility. These activities have led to our developing proprietary production equipment. Also, the knowledge that "a product I made is being used by people around the world" provides employees involved in design and manufacture with a sense of purpose, a sense of responsibility, and joy.
Production
facilities
Manufacturing equipment produced in house, small pad (tampographic) printing machine, single-piece short-blade cutting machine, cell production, semi-automatic assembly machine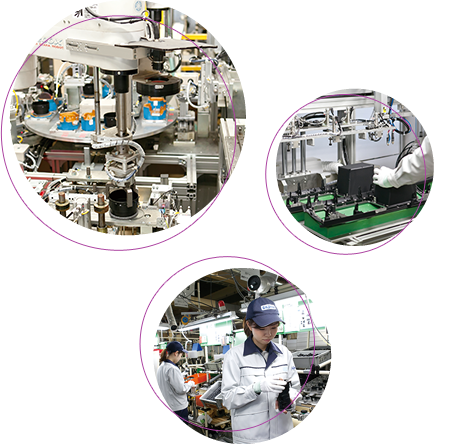 For air conditioning in a vehicle, the direction and amount of air flow required depends on various conditions, such as the time and place. In order to provide products that allow the user to freely set the air flow direction, amount, and quality the way they like them, Howa Plastic utilizes its advanced design prowess, while envisioning the various conditions required of automotive air conditioning. We repeatedly execute the cycle from material design to structure development and improvement.
Design Support
Systems
CAD (CATIA), a variety of CAE, three-dimensional measurement systems, 3D printers, operational load measurement systems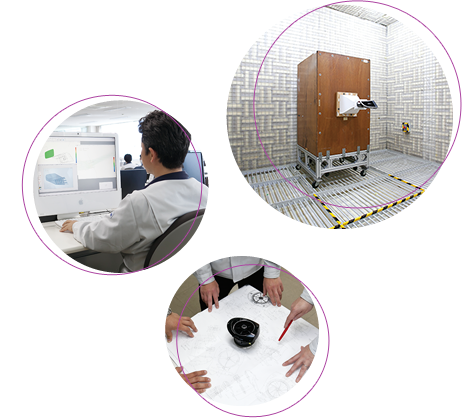 "In order to give the customer 120% satisfaction, efforts for quality assurance, which is the backbone or manufacturing, take priority over everything else." Based on this thinking, the quality control department and the actual manufacturing site work together as one team, repeatedly performing thorough quality control activities. We set stringent evaluation standards for quality, use evaluation and inspection equipment that matches the characteristics of the product, and achieve higher-level performance assurance and quality assurance.
Evaluation
equiament
Infrared spectrophotometer, X-ray fluoroscope, large thermostatic chamber, tension and compression tester, vibration testing machine for noise evaluation, and measurement equipment for a variety of properties